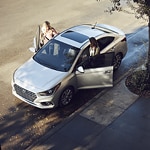 The latest edition of the popular Hyundai Accent leaves little to be desired when it comes to performance. The Accent is available for test driving right now at Hyundai of Brenham, so don't hesitate to come by and check out this popular subcompact sedan line for yourself.
Under the hood, the Accent is outfitted with a powertrain consisting of a four-cylinder motor and a six-speed manual transmission with a continuously variable automatic transmission as an added option. A well-designed front-wheel drive set-up also comes as standard equipment.
The Accent's performance is complemented by its enviable levels of fuel consumption in all types of driving conditions. Estimated fuel usage ratings for the standard engine and transmission combination are approximately 29 miles to the gallon in the city and 39 miles to the gallon on the open road.