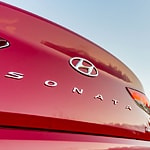 All it takes is one glance at the Hyundai Sonata for the vehicle to stick in a car shopper's mind. The popular mid-sized car looks exceptional. While the looks are fine, the incredible performance features bring even more value. The Sonata delivers impressive power and handling, thanks to excellent vehicle engineering.
The Hyundai Sonata comes with different options under the hood. With the standard 2.5-Liter four-cylinder engine, expect quick acceleration and 191 horsepower. If you want something turbocharged, there's the available 1.6-Liter four-cylinder engine, an engine that delivers 180 horsepower. The torque stats tell a tale, too. On the standard engine, owners get 181 pound-feet of torque while the turbocharged one has 195. The handling also highlights the value of owning a Sonata. Rides are smooth, which can be a plus for people dealing with Brenham, TX roads.
See how the Hyundai Sonata performs at Hyundai of Brenham. Our sales team will help you out with a road test.