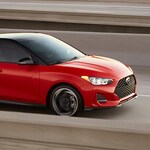 The Hyundai Veloster is a one-of-kind vehicle. It is a three-door car that is designed to seat up to four people. This vehicle comes with the latest technology. It has a head-up display. Everything that you need to see will be at eye level. You will be able to see what you need while keeping your eyes on the road.
This vehicle also has technology that will keep you safe while you are driving. It comes with Driver Attention Warning. It will be able to detect when you are drowsy or not paying attention to the road. You will receive both audio and visual cues. Many accidents occur as a result of inattentive drivers.
The Hyundai Veloster will make your drives a lot more fun. You can take this vehicle for a test drive before you buy it. Make a trip to Hyundai of Brenham today so that you can test drive the Veloster.