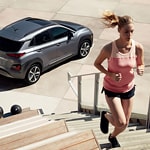 This article reviews the handling of the Hyundai Kona car.
When the car is compared with its competitors such as the Renal capture and C3 across, the Kona has a great feature of gripping well; it changes the directions smartly, and when on tight angles, it can twist and turn while staying upright. It has a taller body, which is a great feature that leans more when making first corners. This is caused by the availability of hybrid batteries and adds to that; it does not feel agile as other cars, e.g., the Ford fiesta. One will enjoy a ride along a country road, particularly if you have a small SUV. This is because the steering was made precise. This makes you give a fair judgment when one places the car on the road.
Features of the Hyundai Kona car from the body to the interior make it's handling be great.